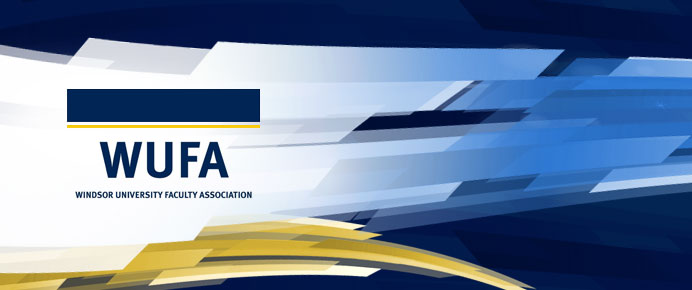 A report of the 2021 survey results concerning the performance of senior campus administrators at the University of Windsor.
On October 6, 2022 WUFA held a Speaker Series Session on Academic Freedom featuring Professor James Turk of Toronto Metropolitan University. Prof. Turk is an expert in Academic Freedom and currently serves as the Director of the Centre for Free Expression at Toronto Metropolitan University.  He has previously served as the Executive Director of the Canadian Association of University Teachers and has extensive experience working with national labour groups.  Professor Turk has written extensively…
Officials from the University and the Faculty Association met on May 30, 2022 for the official signing of the 2021-2025 collective agreement. Standing, from left to right: Chris Fredette and Pierre Boulos, co-chairs of the WUFA Negotiating Team; Patti Weir, Interim Provost & Vice-President, Academic; Denice Shuker, Executive Director, Academic & Staff Relations (interim). Seated, from left to right:  Anna Lanoszka, WUFA President, and Robert Gordon, University of Windsor President.